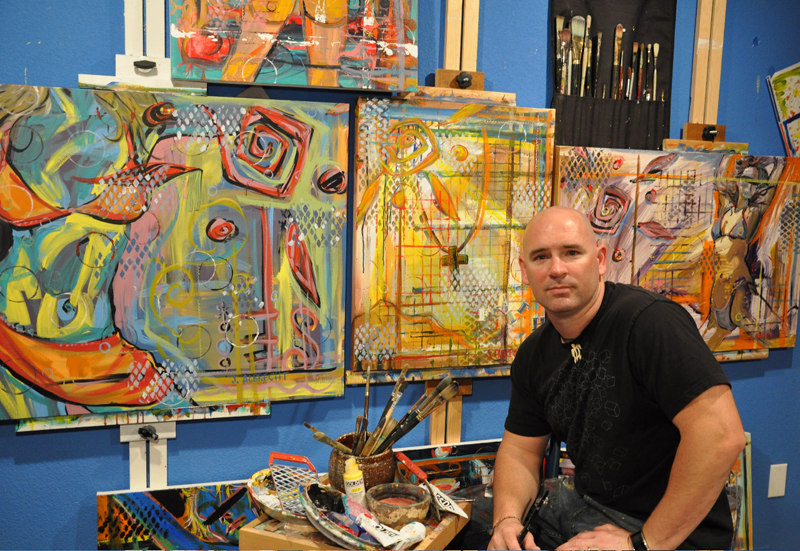 At an early age, Albrecht was exposed to the vibrant art scene of the San Francisco Bay Area through its wide variety of galleries and museums. Inspired by the colors, drips, and splatters of contemporary artists, Albrecht sketched and painted whenever and wherever he had the chance. "My earliest memories include sitting in church while drawing the preacher on the back of the bulletin." describes Albrecht. While in grade school he won several awards and commissions for his creative works. He soon found himself designing logos for companies, painting signs for local shops, and creating 30 ft murals. He later received degrees from Chabot College and San Jose State University where he turned his focus from tightly rendered illustrations to the abstraction of the human figure, with emphasis in color and line.
His flare for color and line has been influenced by the work of Picasso, Peter Max, Leroy Neman, and David Park. His paintings reflect an energy that moves viewers through a range of positive emotions. Albrecht describes his process, "I like to focus on the negative space surrounding my subjects. This is an area that I can push, pull, slide, or stamp paint through in order to balance the composition." His playful use of color and symbols allow his paintings to pulse with excitement, creating a positive atmosphere in any environment.
Jeff Albrecht has been producing original artwork for clients and private collectors for over 20 years. Past clients include Hilton Hotels, 3-Com, Geron Corporation, ActivCard, and McDonald's. His paintings can be found in hotels, favorite restaurants, select galleries, and private collections around the country. His pottery can be found as far away as China and Japan.
"I don't take for granted the fact that I'm able to make a living by focusing on my passions and spending time with the people that I love…I feel like the luckiest man alive."
- Jeff Albrecht